---
Scott Stahlecker - Scott Stahlecker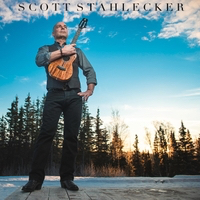 An eclectic and enchanting blend of music, infused with new age ambiance, synthesizers, tasteful leads, and sophisticated percussion. Having grown up in the Hawaiian islands Scott Stahlecker became adept at the ukulele at an early age. Later in life his musical interests expanded to include drums, guitar, and keyboards. "Rainforest Dance" was his first project, and this self-titled followup is just as dynamic. "Scott Stahlecker" serves up for the discerning listener a range of tunes in divergent genres, yet overall, the album flows together to produce a unique and compelling sound.

---
Transpose Tool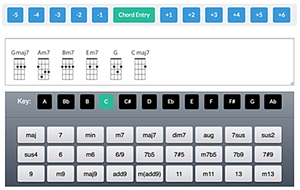 The Transpose tool is for exploring various keys of songs you play or want to learn. Enter the chords to a song, and display chords in any key.

---
Chordsongs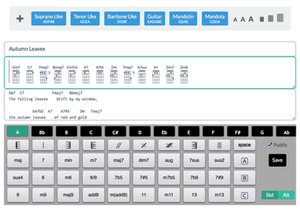 Chordsongs is a free Web app for desktop and laptop computers. It provides a simple interface for creating chord charts. Chords for six tunings are available: Soprano Uke (ADF#B), Tenor Uke (GCEA), Baritone Uke (DGBE), Guitar (EADGBE), Mandolin (GDAE), and Mandola (CGDA). You only need to create a chord chart once. Selecting a different tuning will convert your song to that tuning.