FRET TAB
Fret Tab is a simplified redesign of the basic tablature format, using a layout consisting of a sequence of notes overlaid on a fretboard-like structure. It is intended for those that want a quick way to capture a basic melody, teachers and individual instructors, and for those that may be intimidated by more complex Tablature features.
TABLATURE
Fret Tab can be used in a teaching setting to create simple melodies for students. The color version supports Aquila Kids strings.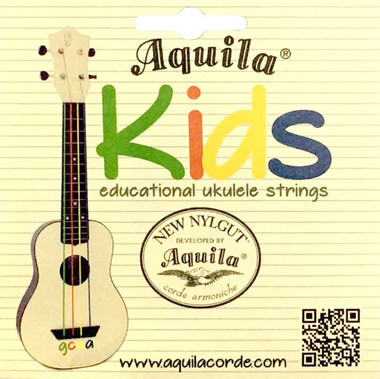 COPY BUTTON
The Copy button makes it easy to enter tab and chords in your document. Simply select or enter your desired font size and click the Copy button and paste into your document.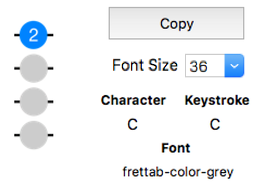 CHORDS
Fret Tab includes basic chords that can be integrated with tablature, or to create chord melodies.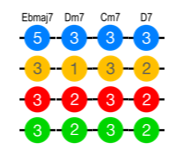 TABLATURE
Fret Tab supports ukulele tuned GCEA. The apps are available in black and white for Windows, and in both black and white and color for Macintosh. The color version includes both full color and grey display.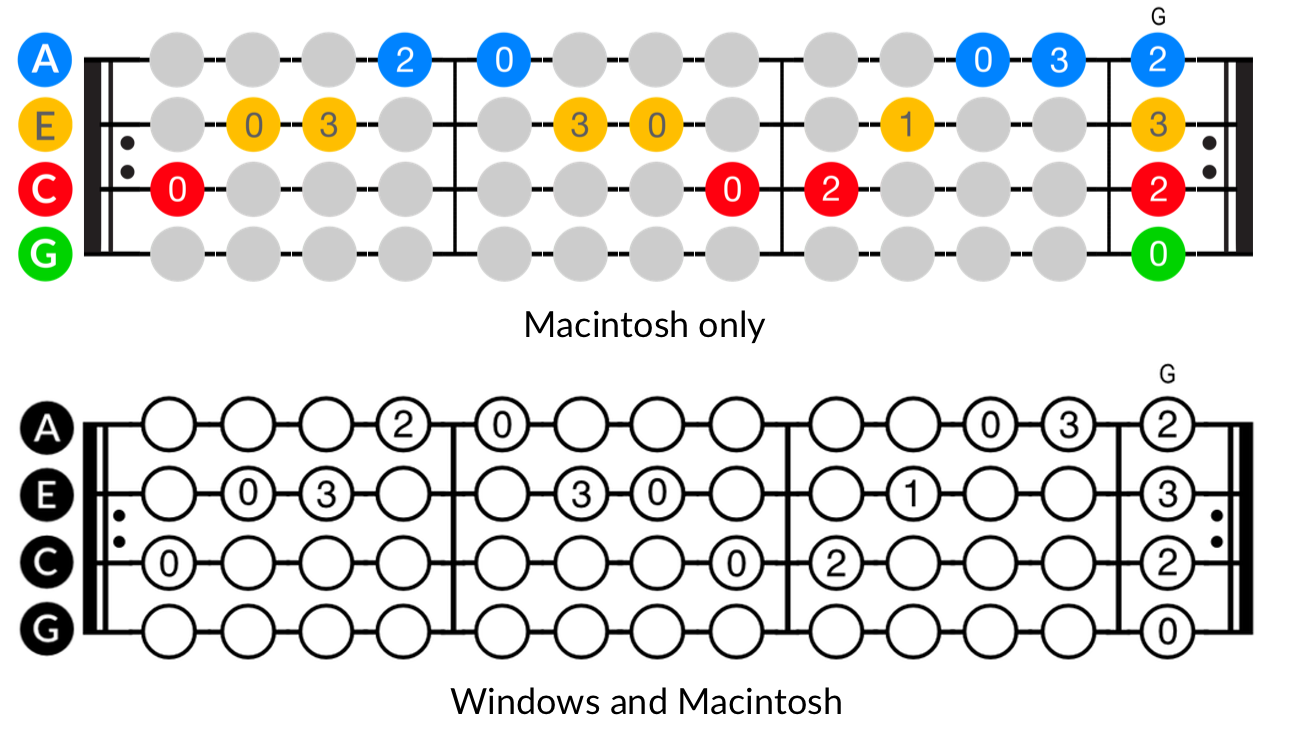 APPS
Fret Tab includes a copy/paste button to simplify entry. Character and Keystroke information is also provided for keyboard entry. The tablature can be displayed in full color or color/grey on Macintosh. The Windows version is only available in Black and white.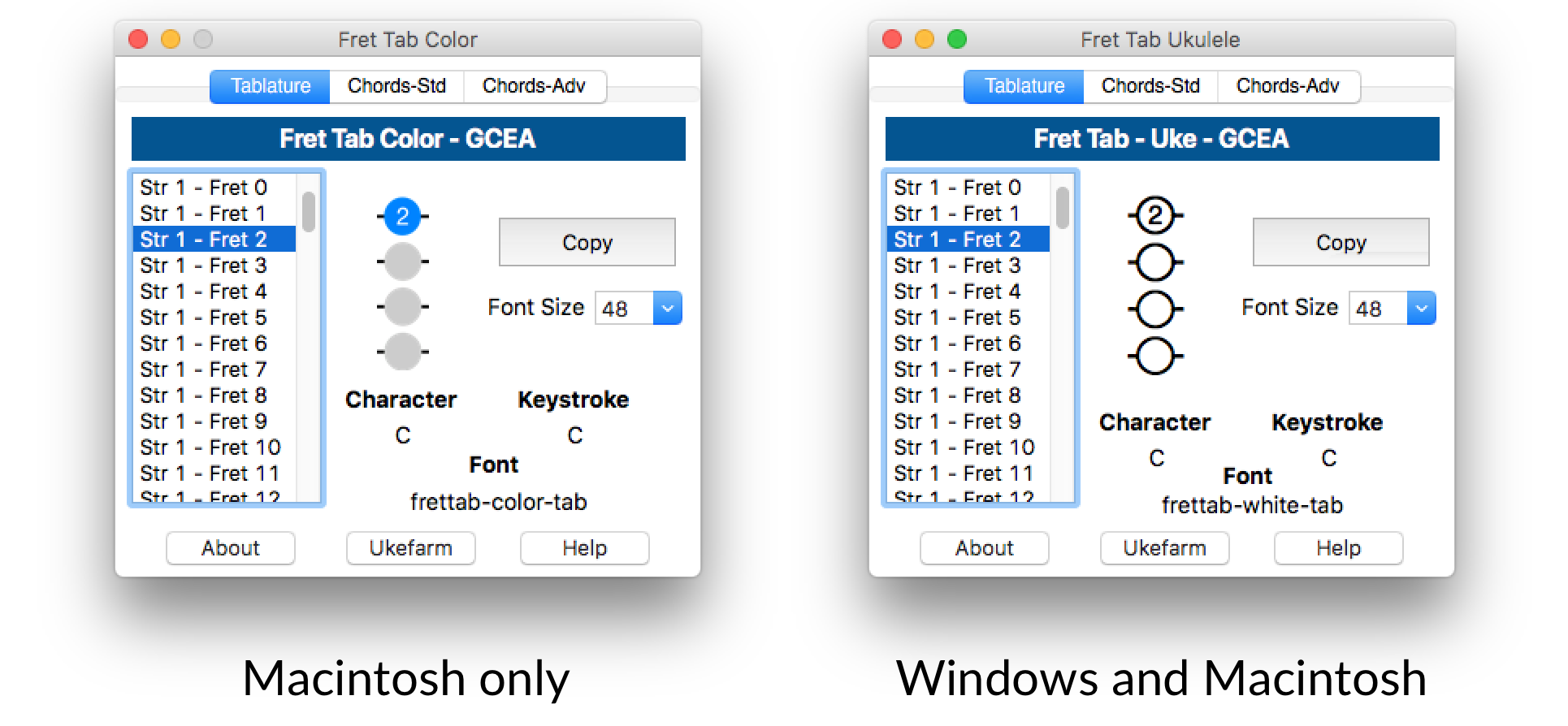 Fret Tab contains standard and advanced chords. Here are the tablature and chord sets included with the app:



Tablature
String Tabs
Measure
Repeat
Bar line
Line Spacers
Pull-off
Hammer-on
Slide


Chords-Std
Major
7th
Minor
min7
maj7
dim7
aug

Chords-Adv
6th
m6
7b5
m7b5
7#5
7b9
9


Sample Tab and Chords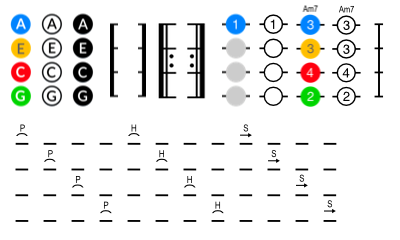 CHORDS
Fret Tab includes a basic set of chords formatted for tablature, and a set of advanced chords. Chords sets are available in color and black/white outline for Macintosh and in black/white outline for Windows and Macintosh.
Fret Tab contains basic chords. Here are the chord sets and examples included with the app (Color app shown - Macintosh only):

BUY
Fret Tab apps are available for both macOS and Windows. Pllease ensure you chose the correct platform. Fret Tab Color version is only available for Macintosh.
Here is the Read Me file that is included:
Q: Why is there no color app for Windows?

A: One would think color fonts are common, but the truth is the technology is fairly new. Apple, Microsoft, Adobe, and Google are all working on color fonts, but they are incompatible, and Microsoft color fonts do not support current apps, including MS Word. Apple uses their own technology and Fret Tab works with most macOS apps, including Bean, Byword, Pages, and TextEdit.

Q: I need more advanced features.

A: Fret Tab was designed as a simple reimagining of standard tablature. It is intended for creating simple tablature notation, riffs, and basic chord progressions. A much more advanced app is TablEdit, an excellent full featured app that supports tablature, notation, and midi sound playback. There is a free version (TEFview), and a paid version. I have a small set of TablEdit tunes for Ukulele, and almost 3,000 TablEdit tunes for Mandolin.
If you decide to purchase the full version of TablEdit, I would appreciate it if you buy from this link to help support UkeFarm, Mandozine, and Mandozine Radio. I get a small commission from the publisher of TablEdit.

| Products | Tuning | Platform | Price | Buy |
| --- | --- | --- | --- | --- |
| FretTab Software Bundle | GCEA | Mac & Windows | $10 | |